Dear Jean, Once again you have created for me another fantastic blog on Alan Dixon. The photos were great, couldn't remember what Alan looked like but the pose on the bonfire made us wonder how he was balancing on the top, this was very typical of Alan, doing the daring bit again. The other which had people we didn't know, where Alan was stood on the end, in that "way out" overcoat, brought some of the memories back, and the mischievous look on his face said it all!! Then how he looked came back to me.
By the way, Mike Smith rang me the other day and we had a 2 hour long chat, it was brilliant about old times and things he had done up to now, at last we have made contact, so it does work, and I will phone Mick Jolly next week.
Mike Jolly standing in front of me waiting for our Coronation money 1953.
Now for the next on my list, this is John Rogers, my next door neighbour, alias "Slim Whitman". John lived next door in the semi prefab to our family, with his sister Pat and mum and dad,
Above – Mrs. Rogers with Pat in her wheelchair. In front, do I recognise those ears Mike? And right in the front – Bobby Chambers ( Not a brilliant photo but cropped from this larger one – )
I can't remember much about his parents and can't say I saw much of them. Maybe just a passing glance at the back door of their house, when I was scooting out to have fun on The Green. John you could say, introduced me to hearing some of the more popular music of the day, he was a Slim Whitman fan and played and sang, if I can remember, most days in his leisure time, I would imagine he would play the records on his parent's radiogram.
Slim Whitman.
Cannot find a photo of John Rogers – I only remember him as tall and thin

.
I was a bit behind with quality radiograms and was given a windup version from a neighbour, can't remember who, the first record I ever played on it, was Cumberland Gap by Lonny Donnigan,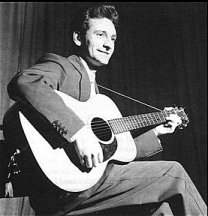 the gramophone was very old when I was given it it had the trumpet for the sound and great big needles, from what I remember, it didn't last for very long wish I had kept it, even in it's broken down state it might have been worth a bob or two now!!
I can remember me and my brothers laughing on many occasions to the Slim Whitman music John played at that time in the 50's, as John would try singing like him. John was a lot older than us being then 21 or so when we were 11 to 13 years old, any time since those days, when I have heard Slim Whitman sing, it always reminds me of John and his family back in the old Summervale prefab -
happy days!! If you see this John hope you can ring me, you may even give us a song, but it has got to be one of Slim's.
I was not a fan so googled his songs and you will see that he was obviously a very popular artist. Many familiar songs – made me think of Family Favourites on Sundays.
More later -- Regard, DW.