Hi Peter
I think I am a little younger than you. I was born in 1959. My memories at Whitelackington are limited but I am sure we lived in one of two thatched cottages. My father was in the the Navy based at Yeovilton. I only attended infant school in Ilminster for a couple of years as we moved to Yeovil. I have been trying to remember just where my Grandma and Grandad lived in Ilminster but can't remember the name of the road. What I do remember is that the front room overlooked fields (where we used to play)and you could see the Horlicks factory. I will see if I have any pics from Whitelackington.

Is it possible to upload to this site?
No, I don't think so but I can if you email the pictures to me. As I'm a little wary of posting my normal email address on this website – please email me yours to jeanjeannie44@yahoo.com and I will reply from my usual one.
Hi Jean
great to see a picture of the old school. I thought it was only up the street from my Grandad's shop. The only thing that I really remembered was the fact that there were two doors at the front and boys used one and girls the other. My other memory is the knickers that we had to wear for PE....not a pleasant memory and put me of PE for life. It's just a pity that my grandparents or parents are not around to read these posts
Navy blue knickers with a pocket – yuk! When we were there we never mixed with the boys as far as I remember. Did you?
P.E. in the freezing cold in the playground, warm milk in the summer, dreadful toilets which meant you did not go all day if you could help it.
Miss Lye was one teacher I remember and Mrs Pratt. Wracking my brain trying to think of the head mistress's name ……………….
I have just come across this information :
1853 – National School for infants and girls in North Street erected by voluntary contribution. A cottage in North Street (formerly Langport Street) had previously provided the town's first elementary education.
I am wondering now if the boys were there or was one side the infants and the other the junior school – anyone know?
Here is a better photo of the school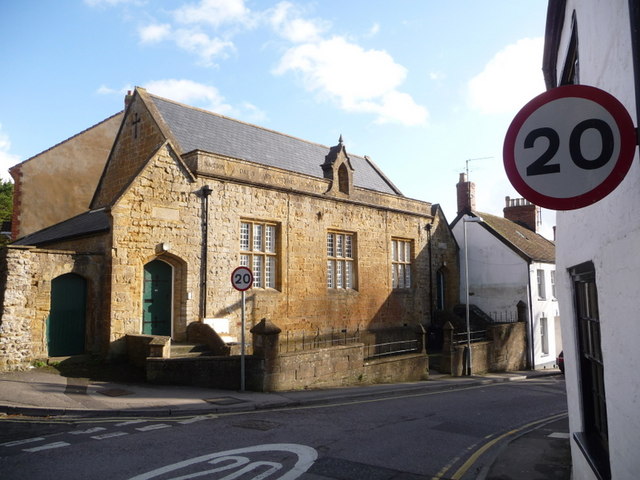 Under the Creative Commons Licence, the image must be credited as specified by the contributor, an example of good wording is shown above.
(The contributor of this photos is Chris Downer)
You should also mention that the photo is copyrighted but also licensed for further reuse. If you alter, transform, or build upon this work, you may distribute the resulting work only under a similar licence.
Right, it is 10a.m. and I'm still in bed. I get carried away with my blogs !
That's all for now
Byee.